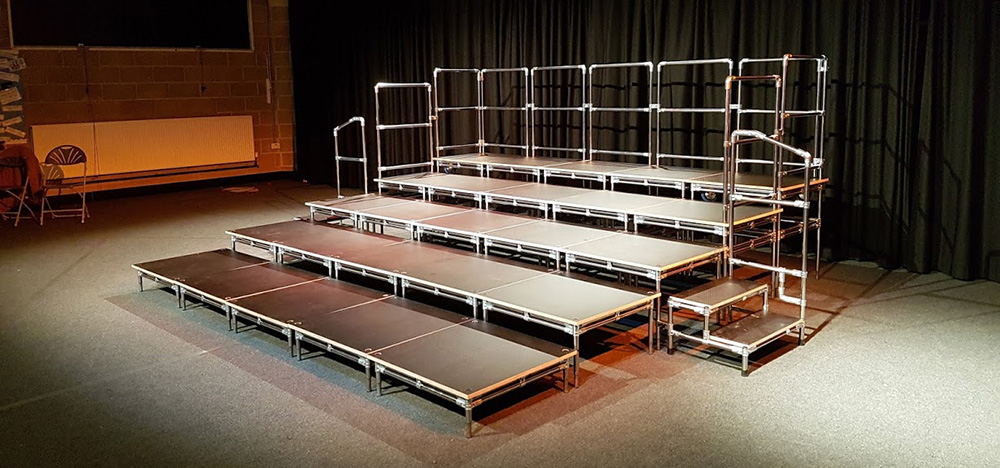 Searching for a Creative and Safer Modular Staging Systems
When the Head of Drama at Rainham Mark Grammar School decided it was time for a new drama stage, specific requirements were set to find the right staging system. The stage system needed to be flexible with support for different layouts and multi-tier.  From a technical aspect, the staging system needed to be stackable with a trolley, which would create a portable stage system that is easy to store. Accessories were also important to have steps for easier access and black boards for standing or sitting on.  Another key requirement was to make the stage safer to build and use.
A quick search led to our site and the submission for more information was followed up by John Gillespie, Sales Manager at Modular Stage Systems. John arranged for a visit to the school to discuss requirements and set up a demonstration to show how easy it was to set up in multiple configurations and clear the modular stage system quickly after use. The demonstration highlighted that the stainless-steel build was strong but light and simple to assemble, with no special tools required. After an overview of additional elements, such as steps and backdrops, and safety modules that can be added, the Head of Drama was pleased that the creative and safety requirements were met.
"Both creative and safety concerns were addressed with the most appropriate stage system being recommended. I was particularly impressed with John Gillespie, who visited the school. He took the time and patience to ensure we ordered the correct system for our space. We now have a versatile and safe method of creating a myriad of stages for our students."
Head of Drama, Rainham Mark Grammar School
Recommending the Right Modular Stage System
Based on the specification and demonstration, Modular Stage Systems identified the 5-tier, 25 module system as the right staging kit to order, with additional safety barriers and steps added to meet the full requirements set out. Following the delivery of the modular staging system, John visited the school to provide training on how to set the staging up and use the trolley to safely stack and store when not in use.
"The students have loved being given the independence to install and change the staging for themselves. The highlight was being able to transport this lightweight staging system to an external venue that we were performing in. We would highly recommend Modular Stage!"
Head of Drama, Rainham Mark Grammar School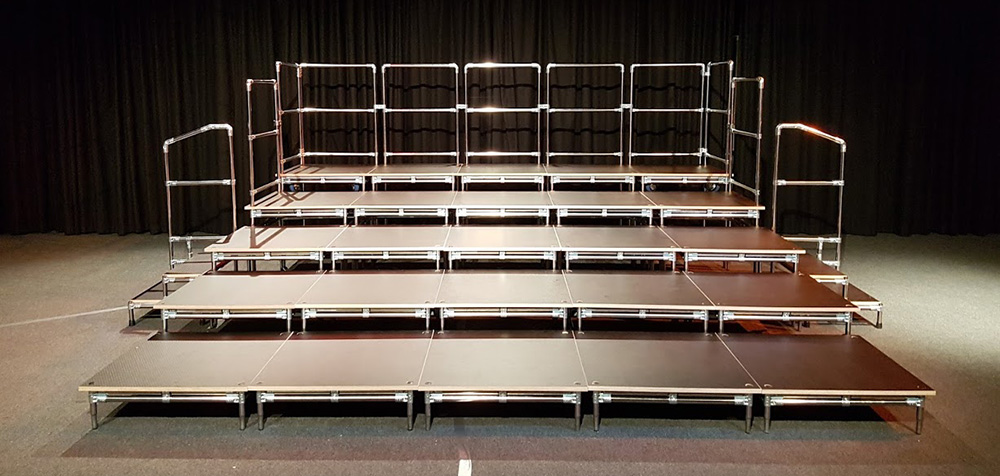 Working with Modular Stage Systems – Review
"Upon searching for a new stage for our drama department, I came across Modular Stage Systems. When I contacted them, I got a response back from John Gillespie, who was both informative and helpful. John informed me that he would come in and demonstrate how the stage is used, he demonstrated how the stage is put together and the different variations of how the stage can be structured. This was a perfect way to see if the stage was best suited for the drama department within the school. I very much appreciated John taking the time to come out to see us and explain how the setting up process. The stage is well loved and well used by all year groups, it has featured in many school productions and will continue to be used. John was most helpful when it came to any questions and queries that we had and was very happy to help. I would greatly recommend Modular Stage and thank them for producing such a fantastic stage!'"
Miss Caitlin Robinson
Rainham Mark Grammar School,
Administrator/Admissions