Modular Stage Systems – Brochures and Design and Assembly Guides
Our modular stage systems brochure provides comprehensive advice on how to choose, design and assemble our portable staging kits, from a simple school stage to a complex festival stage with many accessories. Downloads, CDs and mobile stage design layout aids are also available.
Modular Stage Systems 40 page Brochure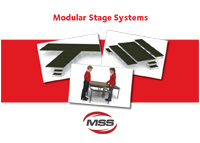 To get an instant download of our brochure click here.
To receive a copy of our brochure sent by post click here
Modular Stage Systems Assembly Guide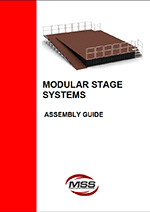 To get an instant download of our Assembly Guide click here.
Modular Stage Systems Layout Aid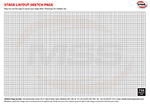 To download a layout page, which you can print to design and plan your stage configuration, click here.
Our Modular Stage Systems brochure shows you all the different ways you can use our portable stages, demonstrating the many accessories available to create the staging and effects that you require.
Our adaptable mobile staging system is versatile and simple to assemble, ideal for schools, churches, village halls and festivals. It can be temporary (taken down and easily stored on its own trolley) or permanent and is also suitable as an outdoor stage. Modular Stage Systems can be configured in many different ways, and you can choose a standard mobile stage kit or opt for multi-tiered theatre staging complete with rails.
Our brochure is available as a download or hard copy sent by post. For your convenience, we also have our stage system assembly guide available as a download.
Our Modular Stage Systems CD is a useful way to keep together all the information about our portable staging; it contains the brochure, assembly guide and additional material including pictures of actual MSS installations.
You may also find useful our downloadable modular stage layout page, which you can print off to help you create a stage design that fits your space and meets your needs.
Our modular stage systems are mainly made with FlowTube, an adaptable product consisting of steel tubes built into modules with a wide selection of joints and accessories. FlowTube offers custom solutions for many environments, such as work stations, manufacturing, warehouse storage and hospitals. For full details, please request our FlowTube CD or visit the website www.FlowTube.com.
Watch the 2 minute video to see a quick overview of our Modular Stage System. 
You will view how to assemble a stage, and the highly versatile storage - the Transformer Trolley*.  A patented solution which can be conveniently integrated as part of the stage.
"I just wanted to let you know we are delighted with our new stage, the quality is excellent and it's perfect for our group. We used it for the first time tonight for our summer show and the children were really impressed with it, it made a huge difference to their performance... Thanks again, we are so pleased with it!"